In the Media
I have received media and speaker training and appeared on television (Good Day New York, The Mike & Maty Show, Better Connecticut, and various news and noon-day programs) in connection with my craft book, magazine articles and as a spokesperson. Last year, I did a multi-city tour of television news shows in Connecticut, Nashville, Baltimore and Cleveland on birth control and fertility for women over age 40. (Click on the links below to see these clips.) Prior to that, I did two multi-city satellite media tour (San Diego, Honolulu, Bennington, Concord, NH, New York City and other cities) on birth control methods as well as a news segment on dietary supplements that was distributed to news stations nationwide.
I have also been interviewed for radio programs (The Business of Being Healthy, 1060 AM WBIX, Boston and others) and newspaper and magazine articles.
In addition to being available for interviews, I am also available for speaking engagements. Most recently, I was a guest speaker at the Craft and Hobby Association meeting in Orlando, Florida in 2009, where I talked about the connections between pursuing a hobby you love and good health.
Magazine Articles
I have been quoted in the following major magazines about the connections between crafts and healing:
Woman's World Magazine
Bust a Bad Mood, March 23, 2009
Bust anxiety by exercising your creativity!
"Just like meditation and deep breathing, crafts make you focus on the present moment," explains Nancy Monson, author of Craft to Heal. "They distract you from anger and worry."
Ladies' Home Journal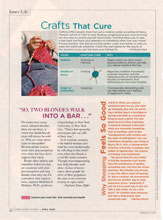 Crafts That Cure by Kimberly Papa, April 2006
Crafting offers people more than just a creative outlet, according to Nancy Monson, author of Craft to Heal. Quilting, scrapbooking and cross-stitching are also ways to soothe yourself emotionally. "Crafting allows you to take a step back and focus your attention on something other than your mood," Monson explains. She also found that certain crafts work better to help you cope with particular emotions.
Television Appearances
To view clips of my television appearances about women's health issues in 2008, click on a link below:
Other Interviews and Book Excerpts
Mature Years, Winter 2009/2010: Excerpted article
Quilter's Home, January/February 2008: Excerpted article
Through the Needle, 2007: Excerpted article
Today's Health and Wellness, August/September 2006: Excerpted article
Connecticut Family Today, Summer 2006: Sidebar on Craft to Heal by Tamara Eberlein
Decorating Digest, March/April 2006: Book review
Washington Woman, December 2006: Excerpted article
Dollhouse Miniatures, January 2006: Book review
Connecticut Post, March 18, 2005, WomanWise Section: "Hobbies Can Help Reduce Anxieties" by Amanda Cuda
Creative Leisure News, March/April 2005: Excerpted article
Creative Success Newsletter, March 2005: Article about Craft to Heal
Notions, Magazine of the American Sewing Association, Summer 2005: Excerpted article
Sew & Tell, American Sewing Guild Newsletter, Fall 2005: Book review
Creative Machine Newsletter Forum, Threads Magazine, May 2005: Guest host
Sew News, October 2005: Book review
Family Motor Coaching, RV News & Notes, December 2005: Book review
Nurse Practitioner World News, December 2005: Book review